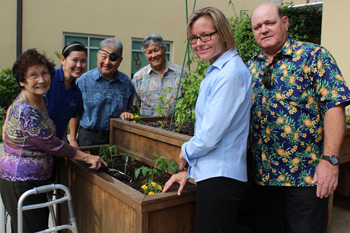 There are many ways to make a life-changing gift to support REHAB. We pride ourselves in supporting REHAB's commitment to quality care and providing the expertise needed to rebuild the lives of individuals throughout our community.
100% of all gifts stay in Hawaii to support REHAB mission and tax-deductible and directed for the purposes specified by the donor. Gifts can be made by cash, check, credit card, wire and electronic fund transfer, stock and mutual funds, and non cash assets.
If you have questions, need assistance or not sure how to get started, please contact us directly and our team is happy to help. Call (808) 566-3451 or by email foundation@rehabhospital.org.
Gifts of Annual Support
Your gift to REHAB invests in the one place that can address the unexpected challenges individuals face when suddenly confronted with limits in ability.  You will support the technology, specialized resources and talented expertise needed to provide optimal rehabilitation.
Innovative and comprehensive rehabilitative programs are not always covered in part or fully by insurance. In FY2017, REHAB provided over $2 million in financial assistance and uncompensated care to low-income or financially needy patients. REHAB's priority is to ensure optimal outcomes are made available to each patient regardless of their ability to pay. 
Gifts of Non-Cash/Items
Real Estate
A gift of real estate is often an effective way to make a major charitable gift to REHAB. Since the gift entitles you an income tax deduction for the property's full appraised fair market value and avoidance of capital gains tax. Gifts of real estate can be made either outright, outright but with lifetime residence rights, or through a charitable remainder unitrust.
Almost any marketable real estate is suitable for a charitable gift, including personal residences, farms, commercial buildings, undeveloped land, and shares in a cooperative apartment corporation. Unencumbered property is preferable and generates the greatest tax benefit.
For more information on how to donate non-cash gifts contact the Foundation office. If the gift/item value is in excess of $500 we will ask for deed of gift and the fair market value as determined by the donor. The IRS and REHAB require that you provide an independent appraisal of gifts-in-kind valued at more than $5,000.
Gifts-In-Kind (Items)
The Foundation also solicits support with donated items (Gift-in-Kind) to use/support event activities. Contact the Foundation office is you have a donations for auction or participant prize for one of our upcoming events.
Volunteer
If you would like to Volunteer for an upcoming Foundation fundraising activity please contact us at foundation@rehabhospital.org and indicate the activity(s) you are interested in supporting.
If you are looking to Volunteer at the Hospital, you can find out more information on the REHAB Hospital volunteer page or by calling (808) 566-3741