Before volunteering at REHAB, I had no idea that there were other avenues to learn about physical therapy besides shadowing a Physical Therapist, which is what I had done while volunteering at other hospital facilities. Volunteering with Cheri has opened my eyes to a different part of physical therapy that allows me to get involved in doing studies and research with Cancer Survivors. It was a blessing being able to be a part of the research process and has opened my eyes to a different interest of study in my pursuit to becoming a Physical Therapist.
— CALVIN LEE, Volunteer, Outpatient Therapy, KJ & Beatrice Luke Specialty Clinic at Nuuanu
---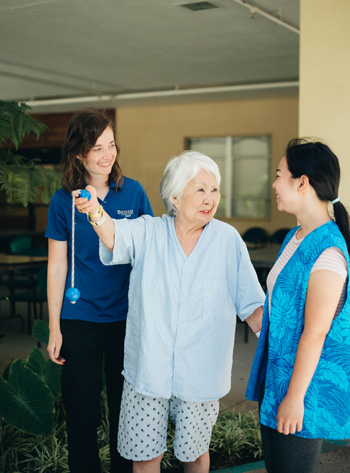 REHAB's remarkable volunteers are welcomed members of the team. Whether volunteering in a patient- or non-patient-related setting, every volunteer's contribution is appreciated and we are always grateful when REHAB is chosen.
Our volunteers (individual or group) embrace REHAB's values of honesty, engagement, aloha, resilience and teamwork.
They have been described as:
Caring and Compassionate
Friendly, Willing to Help
Dependable, Responsible and Flexible
Can do Attitude
Opportunities to Help
Clerical/General Office
Gift Shop
Creative Arts Program
Information Desk/Greeter
Physical Therapy
Occupational Therapy
Speech Therapy
Recreation Therapy
Patient Transport
Nursing
Meal Time Assistance
Cardiopulmonary Rehabilitation Program
Lifestyle and Wellbeing Program
Requirements
Must be at least 14 years of age, 17 in therapy clinics
Commitment of at least 60 hours of service expected
Benefits of REHAB Volunteering
Feel good feeling of helping others
Meeting new people
Giving back to the community
Health care career exploration
Fulfillment of professional educational requirements
Meal allowance and parking
Or give us a call for more information: (808) 566-3741