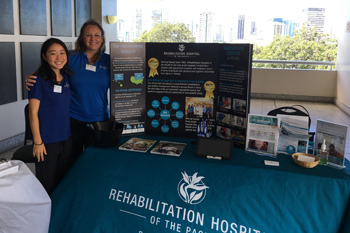 OTAH Conference, October 28, 2017
Providing educational opportunities, legislative and advocacy networks
Rehabilitation Hospital of the Pacific attended the Occupational Therapy Association of Hawaii's (OTAH) 2017 Annual State Conference hosted at the Japanese Cultural Center. Occupational Therapists from all over the state gathered to learn more about the latest in occupational therapy innovative technologies being used for therapeutic yoga and managing and preventing diabetes.
The annual conference was a great opportunity to network with other local OTs on patient care and check out how they improve quality of life across the state. Conference attendees stopped by REHAB's booth to find out more from REHAB's OT team about our services and the innovative technologies that we use! Participants enjoyed getting a hands on look at the latest in our rehabilitation technologies, our MusicGlove. Similar in concept to the popular game Guitar Hero, our OTs use the MusicGlove to help improve a patient's gripping movements and fine motor skills after sustaining a stroke or brain injury.
Thank you to OTAH for having us! It was a great opportunity to network with other OTs and learn about different innovative technologies.
---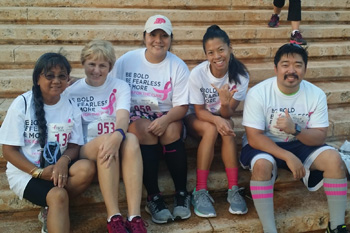 Walk for a Cause
2017 Susan G. Komen Race for the Cure
In 2017, there were approximately 2,530 deaths caused by Breast Cancer in Hawaii — with 6,450 newly diagnosed cases. Da REHAB Boob Troop joined more than 3,000 people walking/running to raise awareness and support for Breast Cancer at the Susan G. Komen Race for the Cure on Sunday, October 15, 2017 at Kapiolani Park. We're glad to have the opportunity to help fund research to end Breast Cancer and to honor all those whose lives have been affected by this disease. Thank you to our REHAB team for coming out and walking to raise awareness for this great cause! Special thanks to REHAB Team Captain, Cheri Teranishi-Hashimoto for spearheading this event!
---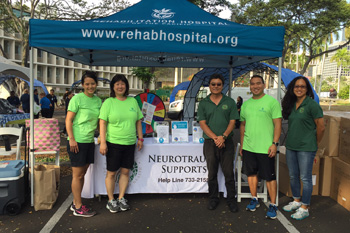 2017 Children & Youth Day
Celebrating Hawaii's Children & Youth
In 1994, the Hawai'i State Legislature and Governor established Children and Youth Day (CYD) in Hawai'i as the first Sunday of every October to celebrate and honor our children and youth and the special contributions they make to our community.  Team REHAB attended the 2017 Children & Youth Day on Sunday, October 2nd at the State Capitol. In partnership with the Queen's Medical Center and The Department of Health: Neurotrauma Supports, REHAB's Certified Brain Injury Specialists provided free bicycle helmets and fittings for all keiki who stopped by the booth. They were also able to educate the entire family on symptoms, causes and consequences of Traumatic Brain Injury with educational handouts and fun helmet safety coloring handouts.