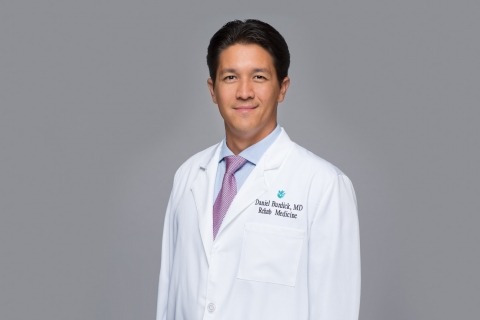 Thursday, October 5, 2017
We are happy to welcome Physiatrist, Dr. Daniel Burdick, to the REHAB team! Dr. Burdick earned his degree from the University of Hawaii JABSOM and did his internship and residency at Loma LiDnda in California. Dan is Board Certified in Physical Medicine and Rehabilitation. He completed a Pain Medicine Fellowship this past June and will be taking his boards for ABPMR Pain Medicine in 2018.  
Dr. Burdick will be working with Dr. Nick Muraoka in expanding our Comprehensive Pain Management Program in our REHAB's Physicians Clinic, continuing to increase our outreach to the community by helping patients dealing with chronic pain and assisting them with improving their quality of life. He will also assist with our REHAB Consult Services. 
Raised in Halawa, Dr. Burdick returned to Hawaii with his wife and two sons. He is deeply committed to his roots in Hawaii and his hobbies include ocean based activities like surfing, kayak fishing, spearfishing, canoe paddling; youth sports with his sons and golf.