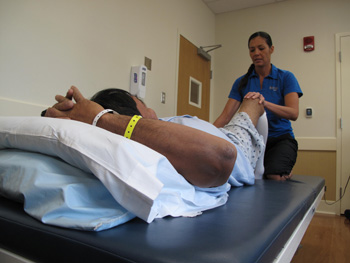 Off the coast of American Samoa, fisherman Freddie Agustin, was working on a ship doing the work that he loves. He encountered some rough seas, and Freddie quickly found himself pinned between equipment so heavy that it crushed his pelvis area. Freddie had to wait for three days on the boat until he could get transferred to another ship which would take him back to American Samoa to see his family. After about a week at home, and unable to move, Freddie was then air transported to Hawaii for trauma care at the Queens Medical Center. He was then referred to REHAB Hospital to start his rehabilitation therapy journey.
After just two weeks at REHAB working with his physical therapy and occupational therapy team, Freddie made strides in improvement and could independently move his legs. While he was not able to bear much weight on his legs just yet, his goal was to stand and get back to walking. Being away from his family, especially his wife and son in American Samoa, through this journey had been very difficult, but it had also been the catalyst in motivating Freddie through this journey of rebuilding his life.
About four weeks after Freddie was discharged from REHAB Hospital, he returned for a visit, not in his wheelchair, but walking in with a cane. He credits the caring nurses and therapists that pushed and motivated him to keep focused on his goals. Freddie is now home with his family who will support him in his continuing recovery.