REHAB's Cardiac Rehabilitation and Pulmonary Rehabilitation programs are the only AACVPR-certified programs in Hawaii. Both programs combine education and exercise to help patients return to a healthier and active lifestyle.
Educational sessions could include:
Proper breathing techniques
The role of medications
Energy conservation
Proper nutrition
Stress management
Infection control
Oxygen management
---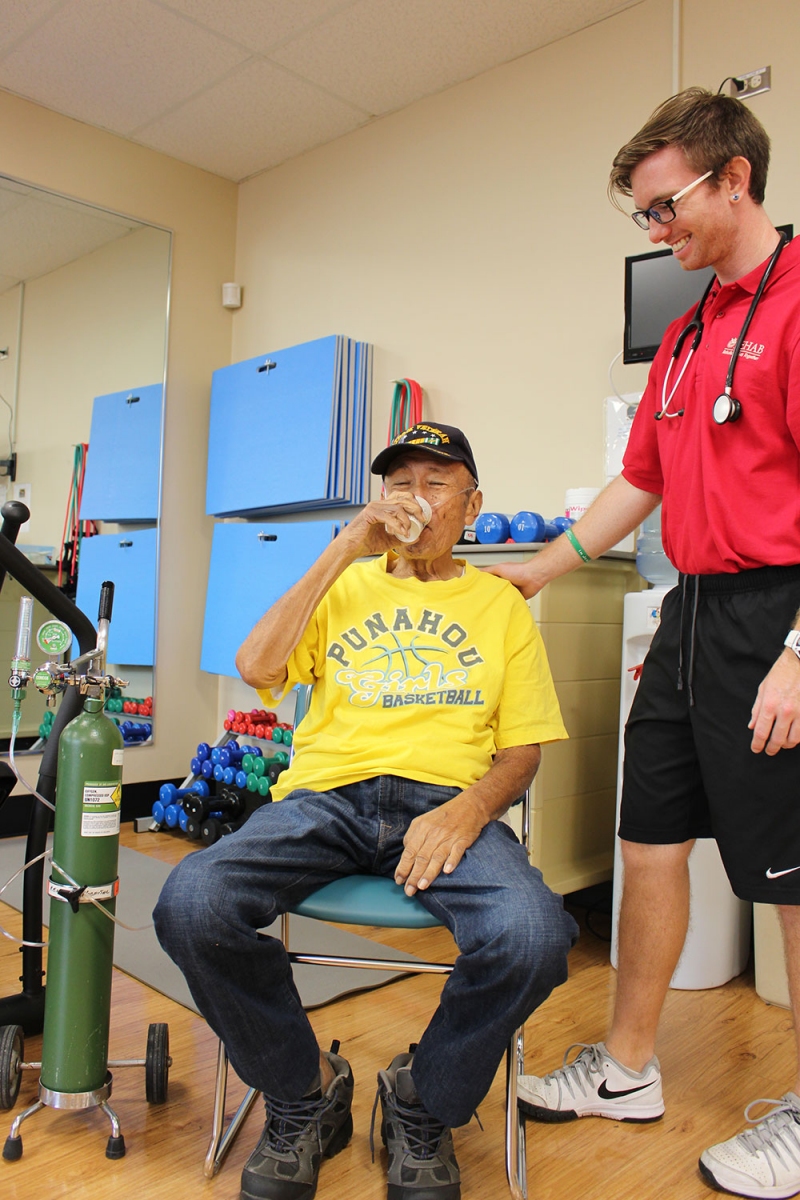 Cardiac Rehabilitation Program
Important for anyone who has suffered from a heart condition.
Who Qualifies?
We assist those who have had:
A recent heart attack
Coronary Artery Bypass Grafting surgery (CABG)
Valve surgery
Balloon angioplasty/coronary stenting
A hHeart transplant
Heart failure
Angina or chest pain
Other diagnoses may also be covered
Benefits
Increased strength and endurance
Decrease in symptoms such as fatigue and shortness of breath
Improved knowledge of heart
Healthy behaviors
Improved nutrition
Improved ability to perform such daily activities as bathing, cleaning and cooking
Improved quality of life
Improved cardiac health and function
Weight loss
Smoking cessation
---
Pulmonary Rehabilitation Program
A six-week comprehensive care course for individuals with pulmonary disease.  
Who Qualifies?
Those diagnosed with a form of Chronic Obstructive Pulmonary Disease (COPD), emphysema, asthma, chronic bronchitis, fibrosis, as well as those who:
Experience shortness of breath that compromises their lifestyle
Want to learn more about their disease
Want to learn techniques to improve their breathing
Want to attain the highest level of independent function
Want to build strength and endurance
Benefits
Control and alleviate symptoms
Decrease number of hospitalizations
Reduce shortness of breath
Increase tolerance to endurance and strength exercises
Decrease anxiety and depression commonly associated with pulmonary disease
---
Our Care Team
Patients work with our team of cardiac and pulmonary rehabilitation experts — including a Registered Nurse, exercise physiologists and respiratory therapists — to improve their heart and lung health through diet and exercise.  
Cardiopulmonary Rehabilitation Support Group
Date: Quarterly (contact cardiopulmonary team for dates, times and topics
Time: 11:45 AM - 1:00 PM
Location: Rehabilitation Hospital of the Pacific; Wo4 Conference Room; 226 North Kuakini Street; Honolulu, Hawaii 96817
Contact: CardioPulmonary REHAB Team by email (cardiopulmonary@rehabhospital.org) or phone: (808) 566-3586